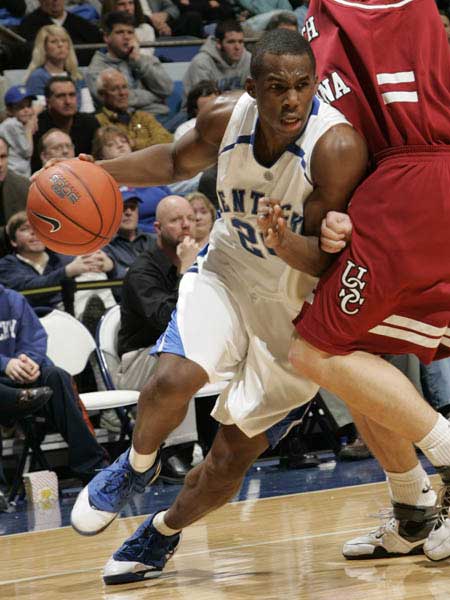 A three year-old child lost in the Alaska wilderness feels less confused and alone than I do right now.
Kentucky Basketball is the only thing with the power to make me feel this way.
It's ugly, people. I'm not quite sure what to do.
Listen to me. Talking like I'm the back-up point-guard. Hmmm... considering the way Porter and Liggins are playing...
Anyway, I have a couple of theories. One is a legitimate analytical look at what's wrong (obvious), and how we might fix it. The other is much more sports-fan-like, and thus will be given the bulk of the attention.
My season tickets are in section 212 in Rupp Arena. On the wall right outside the entrance to this section there is a large advertisement for Whitaker Bank (of bank shot fame). The ad features several heroes of Kentucky High School Basketball lore, specifically, some players who have led their teams to State Championships at the Sweet Sixteen, sponsored by, you guessed it, Whitaker Bank. Richie Farmer makes an appearance (with a mustache that makes you wonder what he sprinkled on his Wheaties), Antwain Barbour is there, Marquis Estill too. All of those guys ended up playing for Big Blue and deserve their spot commemorating Kentucky's outstanding high school legends. However, there is another player whose face graces (if you want to use that word) the enormous ad-space, one who did not attend Kentucky, one who spent his entire four-year college career inspiring groans from every fan who didn't know enough to know that we should NEVER have recruited him over the guys we got in his class. That's right. Maysville's Own. Chris Effing Lofton. There he is, fifteen feet tall, cutting down the nets. In Rupp Arena. As someone who buys in - hook, line, and sinker - to the whole irrational-fan-who-thinks-superstition-in-sports-is-real philosophy, I'm calling this a curse until we hang banner number eight or Chris Lofton is revealed to be a post-op transgender, revoking all of his records from Tennessee for subverting the system as a dishonest, broad-shouldered he-she.
Ahem.
On the sane side of the coin, it's obvious that the 'Cats are turning the ball over more than I would accept from a team of eight year-old amputees, and that concerns me. What concerns me more, however, is the possibility that this team has pulled the grandest of hoaxes on our loyal fanbases, cheating us somehow into believing that they are more than they are, a walking, dribbling collective of smoke and mirrors, inflated expectations, and terminal weakness. All summer and fall I walked around innocently repeating to myself, "More talented, Patterson and Meeks healthy, solid recruits. We're really going to surprise some people this year." And we may still. Actually, at this point, winning a game would be kind of a surprise, so...
I digress.
The biggest fallacy in my essentially three-pronged philosophy may be the first prong. It occurs to me that this team is NOT as talented as the one we had last year. For all the griping that was done during Joe Crawford and Ramel Bradley's four years in Lexington, last year, they held together a team that by all indications should have completely collapsed about 19 different times. For every unfortunate turnover, there were five really good plays. These guys invigorated the rest of the team and they led the players on and off the court in a way that Coach Clyde desperately needed them too. Plus, they were really good scorers and underrated defenders. They could handle the ball and hit the big shot. This team does not have anyone to fill the void of their leadership, tenacity, and skill. Yes, Jodie Meeks is a stud. He is also, as of now, an island in the backcourt. Porter plays like a frightened gypsy, Liggins isn't to not being bigger, faster, and stronger than everyone else on the court, and Kevin Galloway can't seem to find his way out of Clyde's dog house. Guess what. Point guard play is important. It can and should get better, but right now, it scares the hell out of me.
As for the frontcourt, we were like, "Hey, Patterson is awesome." And he was like, "Yeah, I know, right?" And Perry Stevenson was like, "Hey, I'll be a legitimate scoring threat from the post." And we were like, "Yeah you will!" And then it was like, "Oh crap, that's right, you weigh 135 pounds and you're soft as a goose-down pillow." And then we were like, "Josh Harrelson! All right!" And the Coach G. was like, "Hey, dumbass, learn to play defense." And the bench was like, "Hi Josh."
And then there are the turnover machines who play in that ethereal, unknown region called simply, "The Wing." Darius Miller (who is going to be really good, even by the end of this season) and Ramon Harris have got to fill some of the void left by Jasper's exit and use their agility - well, Darius' agility - to get the ball to Patrick Patterson and create some match-up problems with their defensive length and their ability to get to the basket on smaller players.
So there. That should fix us. It's going to be a tumultuous season. The good news is that we've got a slew of low-end opponents who we can hopefully use to figure out a system and gain an identity in time for the SEC schedule. We can still do damage, we just have to take the passion and togetherness that last year's team showed toward the end of the year and fuse it with the skill that many of these same guys exhibited down the stretch.
Some say it's a waste to think about this stuff. After all, I'm not on the team and I can't affect the outcome. But, I can't stop caring. And I never will. So, in the meantime, it's all I can think about.